About project
Childhood cancer is a curable disease but recovery depends not only on the doctors' skills or the availability of drugs. Equipment that provides timely diagnosis and continuous monitoring is equally crucial. Unfortunately, new technologies arrive to the Ukrainian hospitals very late, and the doctors have to squeeze the last forces out of devices that have long been unable to function at full capacity.
That have long been unable to answer the questions that define children's lives. Children with diseases of the blood system are treated at the Department of Hematology and Intensive Chemotherapy at the Western Ukrainian Specialized Children's Medical Center. For these patients, it is important to regularly monitor all the body's biological fluids to identify: what's stage of the disease? Are there any progress in treatment? Are there any affected blood cells remained? The doctors can get answers for these and other questions with the help of a cytocentrifuge.
The hospital uses the cytocentrifuge to prepare 400 samples a year. Unfortunately, the equipment is already outdated and can fail at any time. In Lviv, such equipment is not available in any other hospital, and it is impossible to transfer biological fluids to another city because cells are destroyed rapidly. Lack of necessary equipment means stopping children's treatment.
New centrifuge means more opportunities for doctors. Higher quality cytology samples, faster processing, 23 programs in memory, 100% of cells are transferred into a vial with a retainer that prevents cell drying. It is possible to carry out additional or repeated tests without taking the samples again. In addition, this device does not require highly priced materials to operate.
It will save hundreds of children's lives! We can do this miracle together!
Project news
How to talk to children about their disease
How to talk to children about their disease Professionals from different countries, referring to their own experience, state that children will consciously undergo treatment if they know the truth about what is happening to them. Paradoxically, on realizing the nature of their condition, children become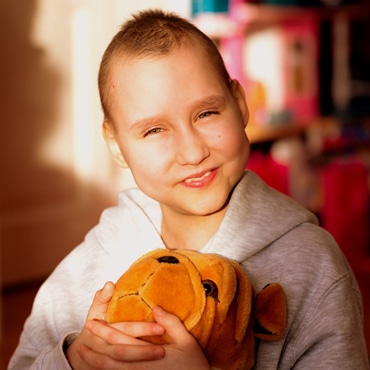 How to talk to children about their disease
How to talk to children about their disease Professionals from different countries, referring to their own experience, state that children will consciously undergo treatment if they know the truth about what is happening to them. Paradoxically, on realizing the nature of their condition, children become