About project
Children with cancer are at risk of coronavirus infection and need double protection. Because of the pandemic, the need for sterility and protection for little cancer patients and their doctors has increased tenfold.
Health systems around the world were not prepared for the crisis caused by the Covid-19 pandemic, especially fragile ones like Ukrainian. Healthy people can and must stay home to save their own lives as well as the lives of the others. Children with cancer cannot stay at home because aggressive disease can kill them fast. Kids should continue their treatment and at the same time protect themselves against the coronavirus infection, as their depressed immune system will not protect them.
We are launching an emergency program thanks to which we will provide the National Cancer Institute, the Institute of Neurosurgery and the Western Ukrainian Specialized Children's Medical Center with additional protection including respirator masks, disinfectants, protective suits and gowns, gloves and other urgent needs. Everything that is necessary, so that seriously ill children could survive the pandemic and the risk of COVID-19 spread was minimal.
In addition, we already have information on the delays in key supplies to the oncology departments, even chemotherapy, due to logistical difficulties. Absence of such drugs means stopping treatment, stopping treatment means death. We will purchase necessary medication, so that patients who cannot wait were able to continue treatment.
Let's save the most vulnerable ones together!
Project news
How to talk to children about their disease
How to talk to children about their disease Professionals from different countries, referring to their own experience, state that children will consciously undergo treatment if they know the truth about what is happening to them. Paradoxically, on realizing the nature of their condition, children become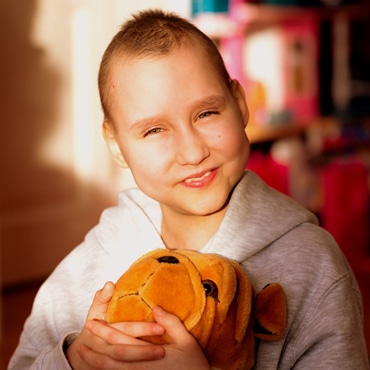 How to talk to children about their disease
How to talk to children about their disease Professionals from different countries, referring to their own experience, state that children will consciously undergo treatment if they know the truth about what is happening to them. Paradoxically, on realizing the nature of their condition, children become